400+ domain extensions
A whole world of domains is waiting for you. Choose from 400+ domain extensions – find the perfect domain for you.
Great value for money
.ch domains for only CHF 11.90 a year. The same is true for all other domains: less is more. Let our low domain prices convince you.
Migration made easy
Spare yourself multiple logins and manage your domains and hosting from one location. We would be happy to carry out website migration for you with our Move service.
Central administration
In My Panel you have a central and intuitive tool with which to manage all your domains. Whether you have one, 10 or even 100 registered domains; My Panel makes it all easy.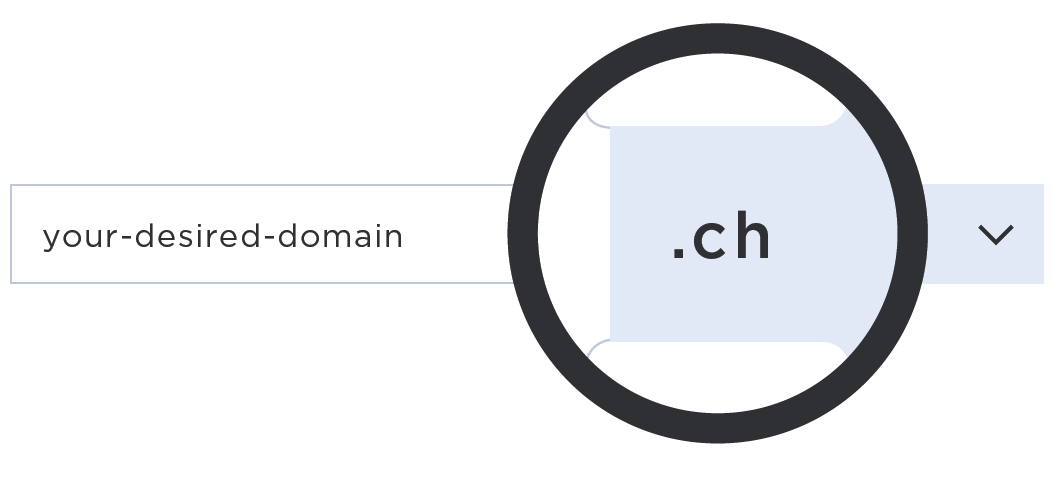 Buy and register domains
A domain is the virtual flagship for your project - only the best is good enough! With us you can buy the one domain that fits your company perfectly. Simply check with our domain check whether you can secure your desired domain and complete the domain registration with just one click!
Domain-Check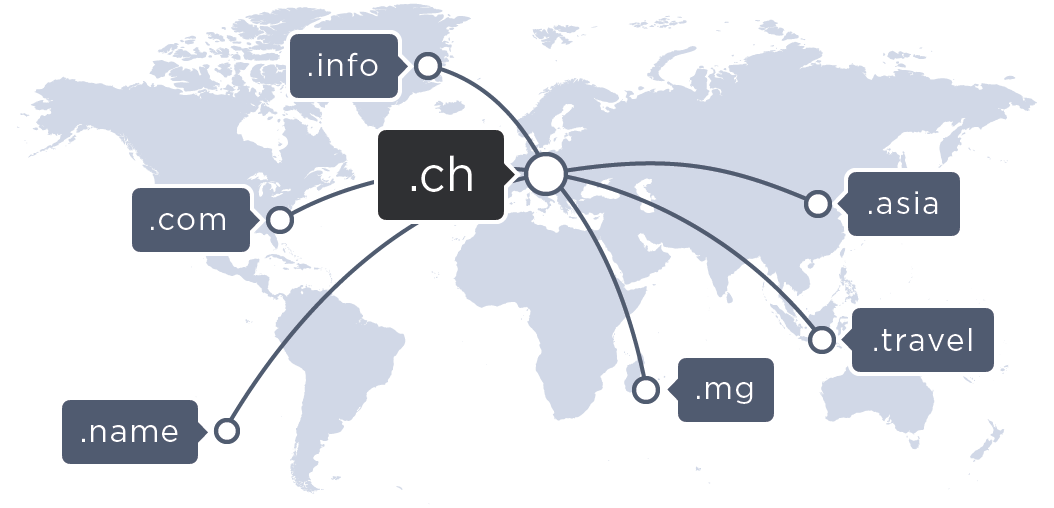 Buy & register your own domain: Here's how
Domain registration is now or never! Popular domains for Switzerland or with other country extensions are often quickly taken. So it's good that you can buy your new URL from us in just 3 simple steps.
Check for free domains with our domain check
Select a domain extension
Register your domain
Done - you have now secured your desired domain! Here you can find the entire spectrum of our domain extensions.
Domain check: Look up available domains
Do you have a domain in mind already? Then it's best to check whether it is still available. Enter the domain without extension in the domain checker. Now you can check in the respective categories which domains are still available, because our tool checks all domain extensions. And who knows, maybe you'll discover a combination here that you like and that you hadn't considered before!
Extensions: Register domains for Switzerland or other countries
From the available domains you can now choose your favorite extension. After all, there are a lot of other possibilities besides the classic .com extension: There are over 400 domain extensions to choose from! And no matter if you choose an international extension like .net or .org, a local one like .ch, .swiss, .li or a completely different one - it is best to register your desired domain today, before someone else do it first!
Domain registration: Secure your domain!
If your desired domain names - because of course several domains are also possible! - are still available, you can register them by clicking on «Buy». Please note that some domain extensions cannot be freely registered. If this is the case, we will tell you what the registration requirements are and how you can prove that you meet them.
Register a domain and buy an URL? Easy!
Get started and secure your preferred domain today! All you need is a little creativity: What should the new URL of your website be? Our domain check tells you with just one click whether the domain is still available, and another click makes sure that your desired domain belongs to you! Sounds simple, but it is - try it for yourself!
internet-address

Top-Domains

Promotions

New Domains

Swiss Cantons

Europe

Rest of World

Education

Business

Computer & Technology

Various

E-Commerce