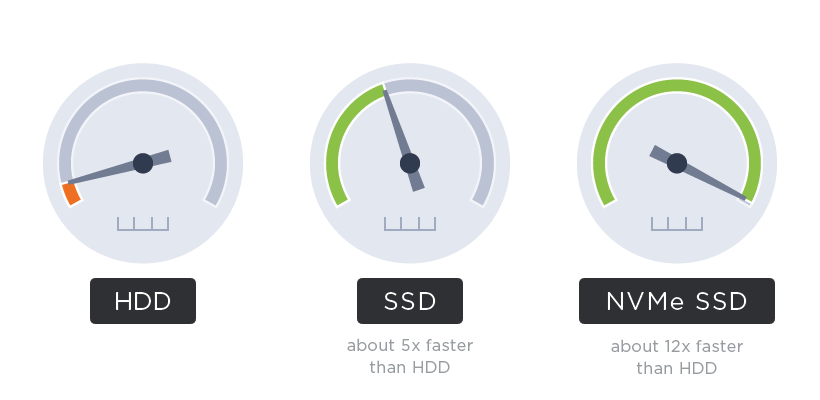 Highest performance web hosting thanks to SSD and NVMe
Only the best is good enough for your website. Thanks to SSD or NVMe storage units, which offer fast access times and very high read and write rates, your website loads much faster. Not only will you and your users be happy about this, but Google may also reward you with better positions in search results.
Compared to a conventional hard disk, SSD disks are about 5 times faster and NVMe disks even about 12 times.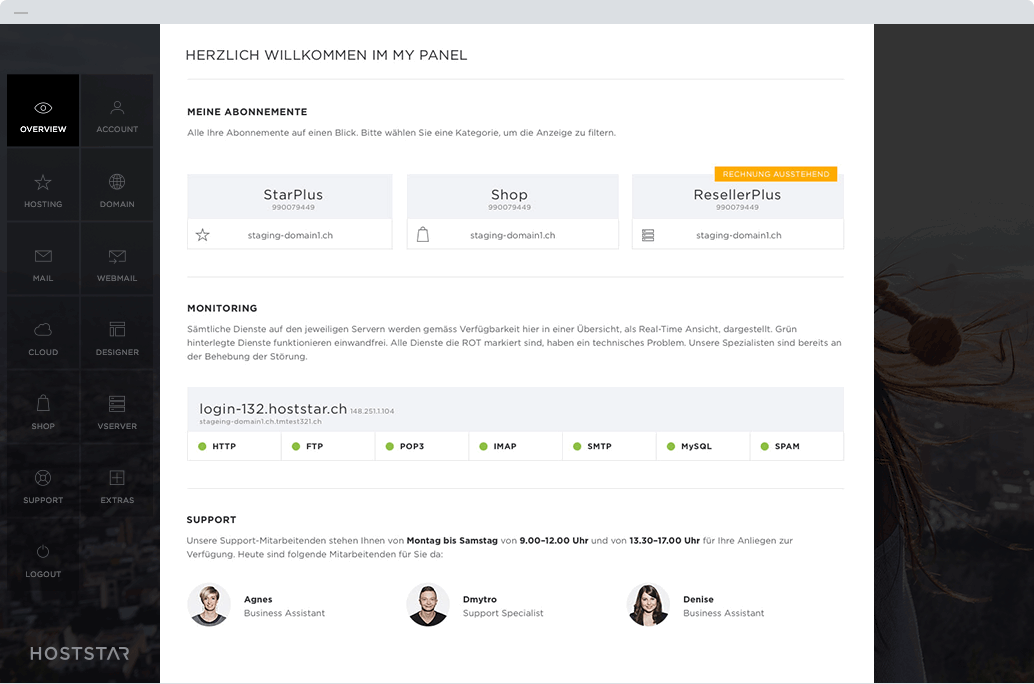 Keeping everything under control
One login for everything: My Panel from Hoststar. My Panel provides all features needed to manage your servers with a modern and straightforward design.
My Panel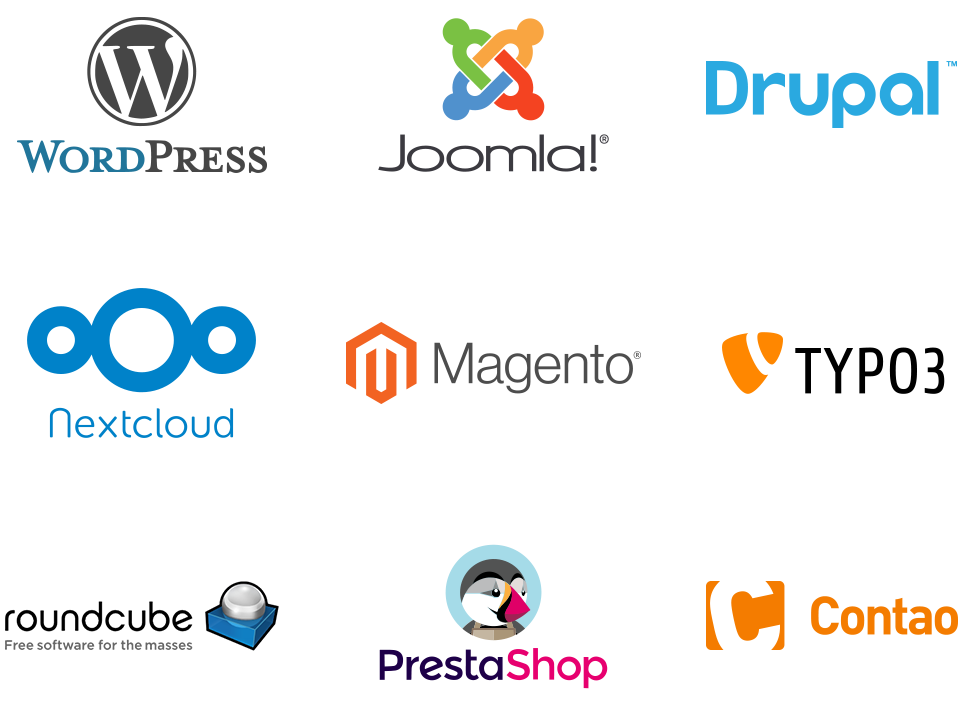 Install with just one click
We let you benefit from over 300 free web applications that you can have installed completely automatically, thus saving you time. With just a single click, you can install software to create websites (CMS), blogs, forums, forms, shops and much more.
Whether it be WordPress, Joomla or Typo3 - we make web hosting easy for you. Last but not least, we provide a backup function for all installed applications. You also have access to many themes for WordPress, which can be activated or switched to anytime.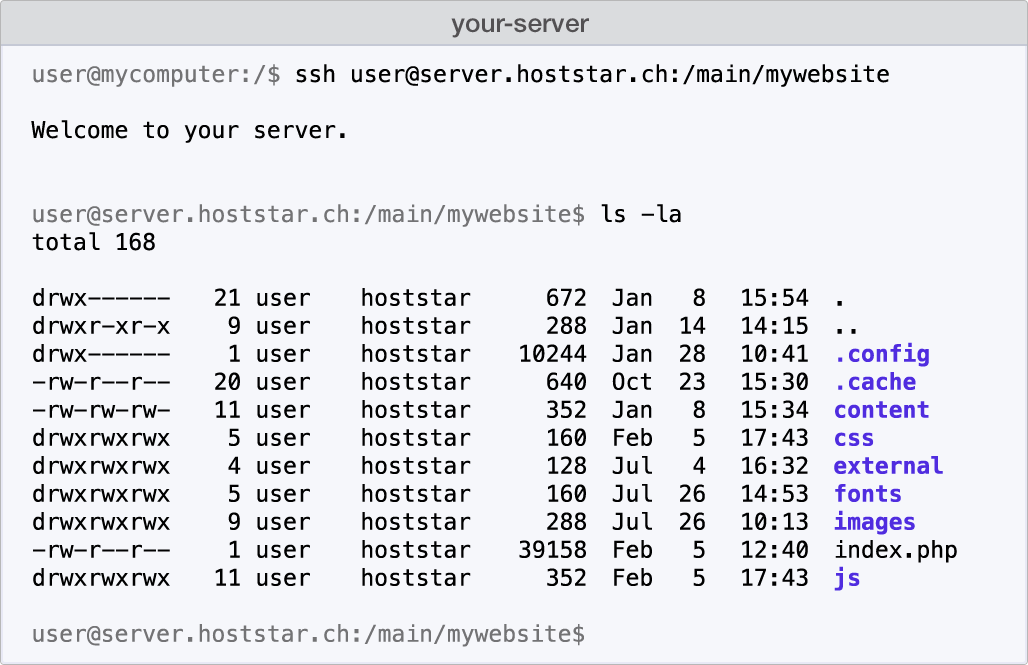 Manage your hosting with SSH
You can also access your hosting with SSH. Experienced users can use SSH to manage and edit directories and files via command line or install and manage applications. SSH access is available with StarBiz and StarPlus.

Your data in one place
Simple, secure and available from anywhere: Access all of your data anytime and anywhere. This is what you call freedom: Cloud from Hoststar. Available from any device with internet access.
Cloud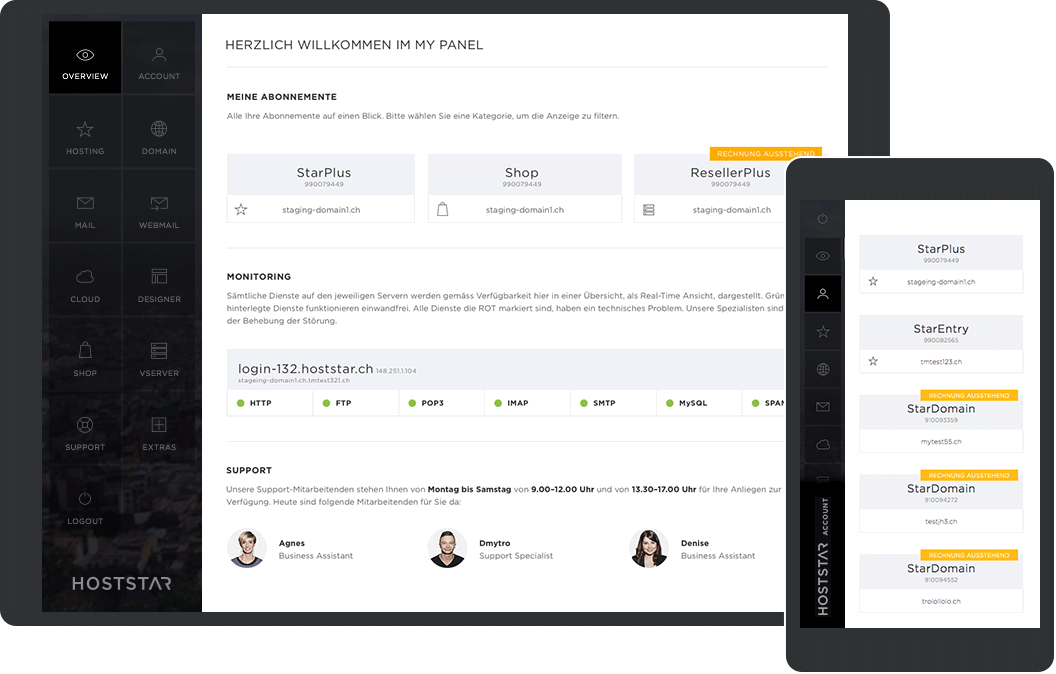 Management on the move
The Hoststar apps are proprietary products that let you use your smartphone or tablet to manage your account even when you are on the move. This gives you access to all of the My Panel features anywhere, anytime.
Mobile
Online sales
Shop from Hoststar makes it easy to take the first step towards creating your own online shop. Set up your shop with just a few clicks. Select one of the premium pre-made designs, customise it to meet your needs and enter your products.
Shop
More email with MailPro
MailPro from Hoststar opens up more possibilities: seamless synchronisation of emails, contacts and calendar items on any device, upgradeable groupware functions and an integrated archive function.
MailPro

A picture paradise
Pictures from Hoststar offers benefits when designing your website: Choose from over 1 million pictures to find the right subjects for your web pages. Thanks to the integration of Unsplash, you can download all images for free and use them on your website without mentioning the source, whether for commercial or non-commercial purposes.
Pictures
Move service for your website
With Move, nothing stands in the way of switching to Hoststar. No matter who currently hosts your website and where you have registered your domain(s), our team of experts can move your website within a short period of time.
Move
Expert advice and support
Do you need help with your web hosting service? Do you have questions about your CMS? Are you looking for someone to create pictures for your website? Coach from Hoststar is the solution: a network of professionals in various web sectors is exclusively available to you as a Hoststar customer.
Coach
Security & Monitoring
Three different SSL certificates ensure secure data transfer at all times. The SEO tool, which includes features and tips for improving the ranking of your website, helps you achieve the ideal rank in search engine results.
The monitoring service and statistics servers make sure you are always able to keep track of everything, whether it's the status of all services in the real-time view, an overview of visitor numbers for each page or a list of where your site visitors originate. These details and plenty of other information are presented in one place and in a visually clear manner.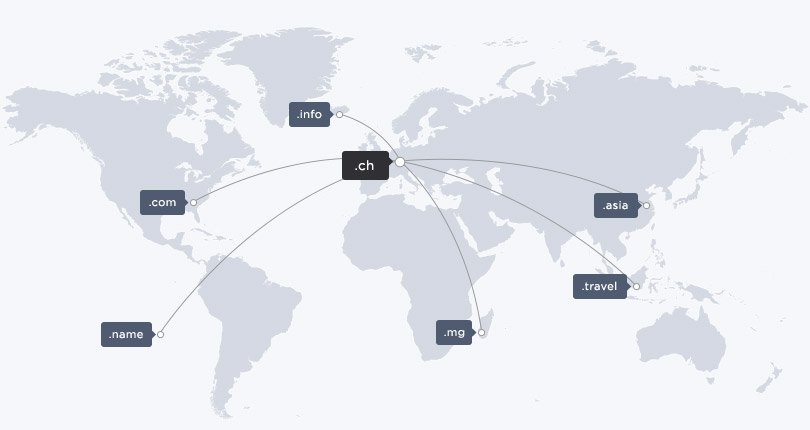 All of your domains in one place
The Domain Manager lets you manage all of your domains in one place. This lets you always keep track of domain name extensions, settings and contract terms as well as register new domains.
Domain Manager