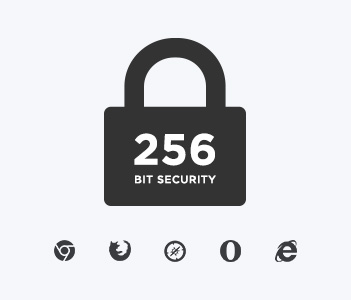 Make your website more secure and trustworthy!
As e-commerce becomes increasingly common, internet security (SSL certificates) is becoming more and more important as well. Sensitive data such as credit card information, passwords and addresses should therefore be transferred over the internet in encrypted form. We can configure the necessary settings for using an SSL certificate for you free of charge (including fixed IP address). You pay only the annual fee for the SSL certificate.
What characterises an SSL certificate from Hoststar?
Security certificate
The SSL certificate protects data transfer to and from your website with 128/256-bit encryption, giving your website visitors better security. In addition, SSL certificates contain information about their owners, which is verified by the certifying authority to ensure unmistakeable identification of the certificate owner.
Trustmark
Use encryption whenever you work with sensitive data such as credit card details or personal information, for instance, if you are running an online shop. The certificate data visible to website visitors and which delivers trustworthy information via the domain owner increases the trustworthiness of a website many times over.
Quality label
To meet the varying standards of our customers, we offer three different SSL certificates and work with one of the leading certificate issuing authorities. Each SSL certificate works with an encryption level that meets the strictest security regulations and complies with the 128 or 256-bit industry standard.
Device compatibility
The SSL certificates from Hoststar are 99.3 percent compatible with the most popular web browsers, operating systems and customer platforms. Your visitors can therefore visit your website or web shop no matter what browser or device they are using and also provide their personal information in confidence and worry-free.
Order now
99.3 percent compatibility
128 or 256-bit encryption
for hoststar.ch domain
no validation
free installation
Order now
99.3 percent compatibility
128 or 256-bit encryption
for your own domain or subdomain
domain validation
free installation
Order now
99.3 percent compatibility
128 or 256-bit encryption
for your own domain or subdomain
domain and business validation
free installation